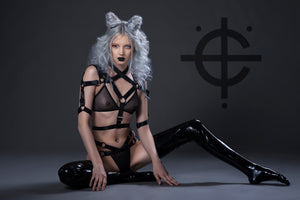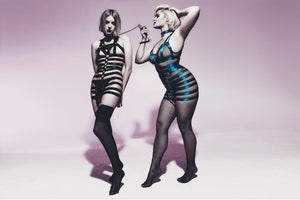 dare to
UNLEASH YOUR DESIRES
Our powerful statement pieces can be styled over or under clothing.
Handmade from satin finished, velvet backed elastic, which stretches and moves to the body.
DARE
Fashion with a fetish twist
TEALE COCO is Ethically made and Cruelty-Free since 2013. Founded in
Melbourne, Australia by Australian international model Teale C Roiz. Produced
in Handmade limited quantities to maintain exclusivity and promote sustainability!
We Strive to Craft Items That Are Not Restricted by Size or Gender Boundaries
Imposed by Society in Fashion's Past. Teale Coco strives to bring luxury
designs ethically made and sourced. Fitting all shapes and sizes.
Limited Edition 25/25
UNISEX t-shirt's
Organic cotton long and short sleeve t-shirt's
Exclusive runs of 25 of each of design.
Shop now
★★★★★

Honestly, this is the most perfect blend of sexiness and aesthetics to enhance femininity and equally for me as a man, made me contrast out my masculinity.

maxwell_behnke

Sydney, Australia
★★★★★

I love this harness so much! It's really well made and I was thrilled with how adjustable it is. I could get the perfect fit for me. I've even worn it was apart of an outfit for a night out and got so many compliments on it.

luvableeyore

Los Angeles, CA
★★★★★

This is by far the most comfortable, stylish and well-made garter belt I've had the pleasure to own. The bands are adjustable and thick, so they don't cut into my skin and create a custom fit even over fabric. Overall, complete sensual elegance.

omethingsawrye

New York, USA
★★★★★

Wearing this makes me feel so powerful! So pretty, very comfortable and easy to put on and take off!

louise epaud

Florida, USA
★★★★★

Shipped super quickly, and also arrived super quick! As others have said, the stretchy fabric makes it super comfy to wear.

Guinevere Gracewood-Easther

Berlin, Germany
★★★★★

Super beautiful! I get so many compliments on it and it's incredibly high quality!

Suzanna Villanueva

Melbourne, Australia
★★★★★

Beautiful quality and a lovely soft cinch. Great as a waist belt / decorative piece. Comfortable to wear as you eat food!

anna_burchy

Texas, USA